Latest News

Browse news by keyword:

Random Photos

Quotes about Tania

It is my pleasure to recommend her and her work to you.

Hans Verbugt
Vice-director/Head classical Department/2008 Conservatorium van Amsterdam...
Latest Concerts
16th of May: Η ΛΟΓΙΑ ΕΛΛΗΝΙΚΗ ΜΟΥΣΙΚΗ
20:00pm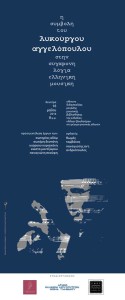 Το "Αρχείο Ελλήνων Μουσουργών Θωμά Ταμβάκου" (Α.Ε.Μ.Θ.Τ.) και το "Καλλιτεχνικό Σύνολο Πολύτροπον" (υπεύθυνος: Παναγιώτης Αντ. Ανδριόπουλος), με τη συνεργασία του 'Κέντρου Σύγχρονης Μουσικής Έρευνας' (Κ.ΣΥ.Μ.Ε.), διοργανώνουν εκδήλωση – αφιέρωμα στον αείμνηστο δάσκαλο της εκκλησιαστικής μας μουσικής, ιδρυτή και χοράρχη της "Ελληνικής Βυζαντινής Χορωδίας" (ΕΛ.ΒΥ.Χ.), Λυκούργο Αγγελόπουλο, με αφορμή τη συμπλήρωση δύο ετών από την αποδημία του.
Η εκδήλωση θα πραγματοποιηθεί στην Αίθουσα Διδασκαλίας της Μεγάλης Μουσικής Βιβλιοθήκης της Ελλάδος "Λίλιαν Βουδούρη", στο Μέγαρο Μουσικής Αθηνών, την Δευτέρα 16 Μαΐου 2016, στις 8 μ.μ.