DECEMBER CONCERTS
KNOT GALLERY, 20th of December, 21:00pm, Athens, 2011
Solo violin with piano and electronics.
Violin: Tania Sikelianou
Piano: Timos Gennatos
Κέντρο Σύγχρονης Μουσικής Έρευνας (ΚΣΥΜΕ): Τάνια Σικελιανού_Τρίτη 20 Δεκεμβρίου 2011_Έναρξη: 20:30_Είσοδος: 8 ευρώ
Στα πλαίσια της συνεργασίας της KNOT Gallery με το Κέντρο Σύγχρονης Μουσικής Έρευνας (ΚΣΥΜΕ), η σολίστ Τάνια Σικελιανού παρουσιάζει …ένα ετερόκλητο πρόγραμμα έργων που βασίζονται στο βιολί. Το πρόγραμμα περιλαμβάνει έργα για σόλο βιολί, βιολί και πιάνο, βιολί και προηχογραφημένα υλικά καθώς και βιολί και live electronics. Πιάνο παίζει ο Τίμος Γεννάτος. Ένα μεγάλο μέρος του προγράμματος αποτελείται από πρεμιέρες έργων που έχουν γραφτεί ειδικά για την Τάνια και την συναυλία αυτή, ενώ η υπόλοιπη συναυλία περιλαμβάνει έργα των J.Cage, M.Feldman, A.Part, Y.Takahashi και G.Kurtag.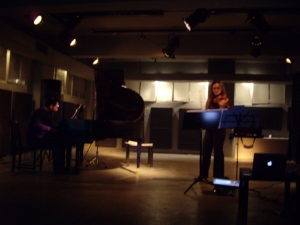 View more photos in the Gallery.
NOVEMBER CONCERTS
Ensemble AИASTROPHOS, 24th November 2011,12:30pm, Tripolis Burgerweeshuispad 301, Amsterdam
Compositions by: Couperin, Mozart, Ravel, Doppelbauer, Athanassaki, Takemitsu
Flute:Konstantinos Andreou
Violin: Tania Sikelianou
ACEC-gebouw, Apeldoorn, November 20th, 16:00pm, The Netherlands
Ruud Roelofsen will perform my new piece,ΉΧΟΣ', for solo percussion and tape.
It is in the Aardlek Serie of Orkest de Ereprijs.
HCJB Auditourium, 10th of November, 8pm, Quito Equador
Duo Passinato, will perfom my early piece Thema and Variations, for violin and piano.
OCTOBER CONCERTS
ABOUT TAPE, October 1st, What's Next? Festival, Flagey, Brussels Contemporary Festival 2011
www.whats-next.be
JULY CONCERTS
Ensemble AИASTROPHOS, July 1st, at Digital Centre of Arts "Fournos", 22.00pm Athens
T.Takemitsu, M.Feldman, A.Jolivet, T.Sikelianou, Μ.Μπορµπουδάκης, C.Mantzoros, N.Chatzopoulou, N.Harizanos, A.Daoutis, P.Fragistas
Flute: Konstantinos Andreou
Violin: Tania Sikelianou
14th of July at Hellenikon Idyllion, 21:30 GR 25100 Selianitika/ Egion
Recital for violin and piano
Violin: Tania Sikelianou
Piano: Timos Gennatos
7th Rhodes International Summer Music Academy­­­
22nd July 2011 21:00 at Municipal Theater, Rodos, Greece
Concert with Tania Sikelianou and participants from piano and violin class
Municipal Theatre of Rhodes
Free entrance
In Freundschaft (1977), by Karlheinz Stockhausen , for solo violin, Tania Sikelianou
During a voice, solo Tape, Music Tania Sikelianou, Video Kali Nikolou
3rd July 2011, Rhodes 21:00
Closing ceremony of the 7th Rhodes International Summer Music Academy
Historical Garden of the Archaeological Museum of Rhodes
N. Harizanos Sirens op.91, solo violin
JUNE CONCERTS
June 8th concert Gent, Orpheus Instituut, Belgium
June 8th 18u (Orpheus Instituut,Gent)
Korte Meer 12, B-9000 Gent
1.Introduction (2011), by Tania Sikelianou, for flute and violin , Ensemble Anastrophos
2.For Aaron Copland(1981), by Morton Feldman, for solo violin
3.Recitativo e arioso (1951), by Witold Lutoslawski, for violin and piano piano: Ivo Delaere
4.In Freundschaft (1977), by Karlheinz Stockhausen , for solo violin
5. Hika (1967), by Toru Takemitsu, for flute, violin and tape,Ensemble Anastrophos
6. Sonata no.3, by Alfred Schnittke, for violin and piano Piano: Ivo Delaere
MAY CONCERTS
May 8th 15u (M KHA Antwerp)
Hydratorizon by Yannis Kyriakides.
(Nathan Van Den Bulcke piano, Lily Moons & Tania Sikelianou violins, Martinez Germàn viola, Seraphine Stragier cello)
Y. Kyriakides – Zeimbekiko 1918
(T. Sikelianou violin &J. Kesteleyn el.guitar, tape)
Anneleen De Causmaecker -About Tape
Anneleen werkt tijdens LAbO verder aan haar installatie met draad, licht en klank! View images.
met, Jasper Van Paemel and Jasper Braet electronics, Sam Pauwels Dance, en Tania Sikelianou violin improvisation
May 6th 15u (Bibliotheek Kunstwetenschappen, Gent)
K. Stockhausen – In Freundschaft
(T. Sikelianou solo violin)
http://www.kunstbib.ugent.be/tekst.html#ontmoetingDesseinetal
APRIL CONCERTS
April 28th 11u, Miry Zaal, Gent:Ensemble AИASTROPHOS

Flute: Konstantinos Andreou
Violin: Tania Sikelianou
Solo tape piece: Tania Sikelianou
Compositions by: T.Takemitsu,N. Harizanos, T.Sikelianou
Y. Kyriakides – Zeimbekiko 1918
(T. Sikelianou violin & J. Kesteleyn el.guitar, tape)
MARCH CONCERTS
March 16th and 19th,de Single, Antwerp
March 16th 20.30u (black hall deSingel)
http://www.champdaction.be/nl/laboratorium-2011-concertprogram/
Y. Kyriakides – Zeimbekiko 1918
(T. Sikelianou violin & J. Kesteleyn el.guitar, tape)
K. Stockhausen – In Freundschaft
(T. Sikelianou violin & E. Vermeiren visual artist)
March 19th 20u (several halls deSingel)
http://www.champdaction.be/nl/laboratorium-2011-concertprogram/
Anneleen De Causmaecker -About Tape
Anneleen werkt tijdens LAbO verder aan haar installatie met draad, licht en klank! View images.
met, Jasper Van Paemel and Jasper Braet electronics, Sam Pauwels Dance, en Tania Sikelianou violin improvisation
JANUARY CONCERTS
Ensemble AИASTROPHOS, January 8th at KNOT GALLERY
Flute: Konstantinos Andreou
Violin: Tania Sikelianou
Electronics: Maarten Hoogenboom
Solo tape piece: Tania Sikelianou